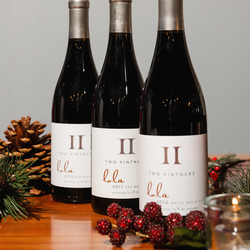 Lola Library Vertical
2012 | 2013 | 2014
Almost as fast as Lola the black lab used to win over visitors in our tasting room, this wine works its way to the top of your list.
Always a blend of Syrah & Cabernet Sauvignon this remains one of our most popular wines. Big, bold, and approachable - Lola will entice you with a balance of dark red fruits & meatiness all held together by a firm tannic streak. Just like Lola this wine is sure to be a crowd-pleaser.
Enjoy this Holiday Bundle of library vintages of a wine close to our hearts. This limited-time offer includes a bottle each of the 2012, 2013, and 2014 vintages Lola.